Roofing Companies In Boerne, Texas
Bison Roofing company has been in business serving South Texas since 2004. Our exceptional workmanship, integrity, and customer service are why Bison Roofing is one of the top-rated Boerne roofing contractors.
We have accumulated unrivaled professional experience and knowledge of roofing systems, products, and modern applications that allow us to educate each customer in making the best decision regarding roofing materials and each step of the process for their needs, paying attention to detail.
Boerne, Texas, is part of the service area for Bison Roofing. We offer residential and commercial roofing Services, including storm restoration and construction services throughout Boerne, Texas. Whatever project you have, our contractor team will do the repairs with great satisfaction, hail damage, or complete remodeling.
Our Boerne, Texas, roofing contractors provide skilled, reliable roofing solutions you need and deserve. We maintain rigorous standards to ensure every roofing job exceeds expectations for our customers in Boerne, TX. We believe in our work so much that we offer competitive warranties on all our highly-recommended roofing services.
When you call us with a roofing concern, a contractor will show up soon to conduct a free inspection. Our contractor feedback is always honest and never jacks up the prices unfairly or recommends a roof repair or replacement you don't need.
Whether you need a residential or commercial contractor in Boerne, TX, we're the service provider you're looking for. You can rely on us to install quality materials and guide you through the entire process of roof maintenance.
SCHEDULE A ROOF INSPECTION WITH THE EXPERTS AT BISON ROOFING
[cf7form cf7key="contact-form-1"]
and let's start the process together.
Roofing Services We Provide
As a preferred roofing company in Boerne, TX, we service various needs for commercial and residential roofs. Our trained and certified contractors go above and beyond to meet your roofing needs, with services including:
Residential Roofing in Boerne, Texas.
Commercial Roofing in Boerne, Texas.
Construction services in Boerne, Texas.
Storm restoration in Boerne, Texas.
Insurance claims in Boerne, Texas.
Emergency roof repair in Boerne, Texas.
Free Roof inspections in Boerne, Texas.
Metal roof in Boerne, Texas.
Shingle roofing in Boerne, Texas.
Tile roofing in Boerne, Texas.
Leak repair in Boerne, Texas.
Flat roof services in Boerne, Texas.
Gutter installation in Boerne, Texas.
Metal Carport in Boerne, Texas.
Patio covers in Boerne, Texas.
Vinyl siding in Boerne, Texas.
Roof repairs in Boerne, Texas.
We are experienced in working closely with a reliable insurance company to ensure that our roofing customers get the coverage outlined in their policy. We are experienced in helping you make an insurance claim if you need to. We are ready to help you find the best plan for your finances. Our commitment is to provide high-quality service for the best results by our professionally trained staff at Bison Roofing.
SEE WHAT OUR CUSTOMERS ARE SAYING...
Types of Roofing We Offer
We are proud to say that as roofing contractors, we use the best roofing materials to install commercial and residential roofing systems. Whatever type of roof you wish to install for homes or businesses, our team will ensure that your new roofing will last you a couple of decades, at the very least.
Asphalt is a popular material for shingles and roofing in the US; it's pretty affordable and a great look for your home in Boerne, TX. Our roofing company has a variety of shingle roofers to make your new roof stand out in the neighborhood.
Contact us today for a free estimate for a brand new roof or repairs to prevent further damage. With quality material like ours, you can be confident that even more economical, budget-friendly options such as shingles will be a perfect replacement for your roofing.
Wooden shingles or shakes are a popular option, and they are cut using a machine, so the entire setup looks flush and smooth. Shakes look great on any roof, but they require frequent maintenance.
When installed, they look pretty similar to asphalt ones – but they can be significantly more expensive. If you opt for thicker shingles, that will affect the pricing, but it will create a rustic look if that is what you want to go for.
Over the years, homeowners getting a metal roof for their new roof has become more popular. Metal roofing is extremely durable, resilient, energy-efficient, and long-lasting so that it might be the perfect solution for your house remodeling.
Installing metal roofing in San Antonio, TX, Spring Pipe Creek, Boerne, or Spring Branch, can be the perfect solution as metal roofing reflects heat away from the house. Shingle roofing absorbs heat, making the place even hotter – while metal roofing can make your home feel cooler and more comfortable.
We offer lifetime warranties and various metal roofing styles to provide you with high-quality roofing services for all your roofing needs! Our Boerne roofers don't only do an excellent job; we are the only company that can provide you with aesthetic advice on what would suit your house the best, for example, the standing seam metal!
Tile roofing is just another one among other professional services our team provides for customers in Boerne, TX. Tiles are extremely durable, making them one of the top choices for roofers and repairs. Tile roofing is so great because it offers durability – and on top of that, it's an eco-friendly option.
When replacing your old roof, our contractors won't throw the old tiles in the trash – they will be recycled. Besides being rather durable, tile roofings have fireproof qualities, so you and your family will be much safer in the event of a fire.
Services and labor costs, along with materials, are much more expensive than shingles, for example. However, tiles can easily last you a lifetime as they sustain less damage over time, and they are fireproof on top of it.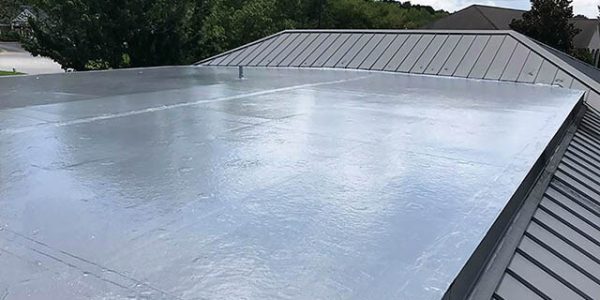 Flat roofing is not so popular for a home in Boerne, TX, but it's the optimal choice for a business building. Repairs on a flat roof are much cheaper, and what's important – flat roofing is more energy-efficient than shingles, for example.
Flat roofing comes with various options, allowing you to choose integrity roofing for your company that completely suits your needs. We can provide you with advice and help you select the roofing services that guarantee satisfaction.
The best part of flat roofing is that they are easily accessed so that the whole project will take only a couple of days – compared to slanted roofing. Flat roofing is relatively durable, but even if you need a roof repair – it can be done in a couple of hours because our contractors can easily access it!
Contact Bison Roofing in Boerne, TX Today!
We partner with the roofing industry's top manufacturers and suppliers to offer you unparalleled service, quality of craftsmanship, and selection when choosing the material and aesthetics of your home's new metal roof, for example. If you need an elite Boerne Roofing contractor that delivers professionalism with every job, give us a call, or fill out the contact form for free estimates.
Contact us to schedule a no-obligation estimate or inspection. At Bison Roofing, we strive to deliver excellent customer service to all of our clients and provide results that meet or exceed applicable regulations and code requirements. So, if you are looking for integrity roofing that you can feel confident in, it's time to talk to a professional and set the details of the project today. Contact our great customer service at 210-888-9646 for a free estimate in Boerne, TX!