Top Roofing Contractors in Missouri City TX
No homeowner wants to take chances with their properties. And that is why you need to hire the best roofing contractors in Missouri City. The roof does more than improve the curb appeal of your home. It protects your house from external elements. A good roof allows you to sleep in peace, knowing no weather elements will sneak in to damage your property.
Bison Roofing ensures Texas homeowners get the best from their investments. For over two decades, we have offered the highest quality roofing services in Missouri City, Texas, and the surrounding areas. That means we understand your home needs, and our team will stop at nothing to ensure you get it. Call us for roof repairs, installations, replacements, and other services, and you will never regret it. We are the leading Missouri city roofing contractors focusing on customer satisfaction. Our experience has taught us to take every job seriously and never leave until the customer is 100% satisfied.
We use the highest quality material for roof replacement and roof installation services to give your home a chance against nature. Our company is known in the commercial and residential roofing industry thanks to our dedicated team of roofers.
SCHEDULE A ROOF INSPECTION WITH THE EXPERTS AT BISON ROOFING
SCHEDULE A ROOF INSPECTION WITH THE EXPERTS AT BISON ROOFING
How to Identify the Best Roofing Companies Missouri City, TX
The number of top roofing contractors in Texas has been growing steadily over the past few years. This is because the real estate industry has expanded rapidly. That means finding the right roofing company can be a bit challenging. Luckily, we are here to help you and ensure you get a company that knows what they are doing. Here are a few tips for finding the best roofer.
BISON ROOFING AND CONSTRUCTION COMPANY
We've built a reputation as solid as our roofs.
Why Choose Bison Roofing?
Your roof plays a crucial role in your home. Hiring a competent will ensure you get the roof you have always desired to get the full benefits. They will use the best roofing material designed for the local weather.
And that is where Bison Roofing comes in. We have been in this market long enough to know what every customer wants. Our team is highly trained to give every homeowner the focus they deserve for the best results.
Bison Roofing is a preferred Owens Corning Texas roofing company. We offer various roofing services to meet different needs. Our residential and commercials have been rated among the best in this region since we only use the best materials.
Hire our teams for the following services: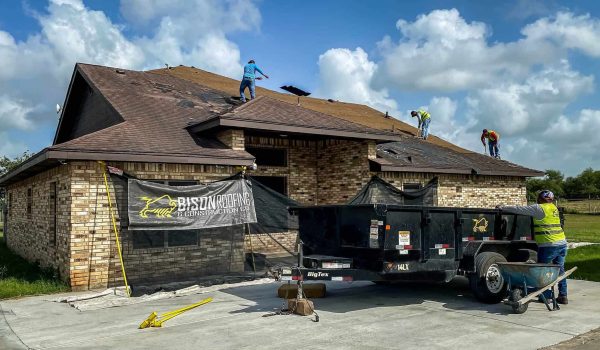 Do you want to install a metal roof on your home? Our certified contractors are here to help you. This is one of our main areas of focus, and we do it diligently. We can even help you with insurance claims in case of storm damages and other issues that may force a complete makeover of your house.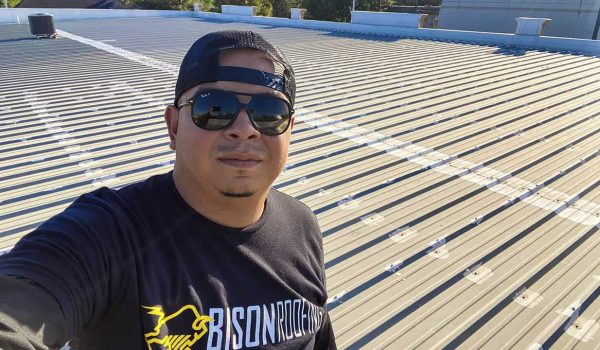 Installing commercial roofs can be more challenging than residential. This is because most commercial roofs are flat, requiring great precision and proper material choice to get the job done. Call us now and request free estimates as we schedule the best time to work.
Aside from repair and installation services, our company offers full replacement. We will work on your multi-family home to give it the perfect roof. And if you want help dealing with the insurance company, we are the best team for the job.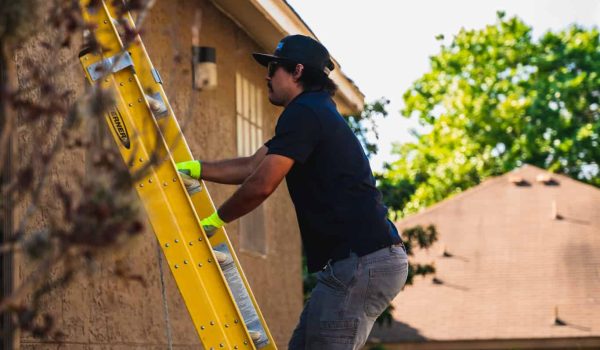 As the most trusted local roofers, we have seen homeowners struggle with roof leaks and similar issues when the rainy weather starts – it is never pleasing. And that is why we offer roof inspection services to detect problems quickly, handling small ones before they become real issues.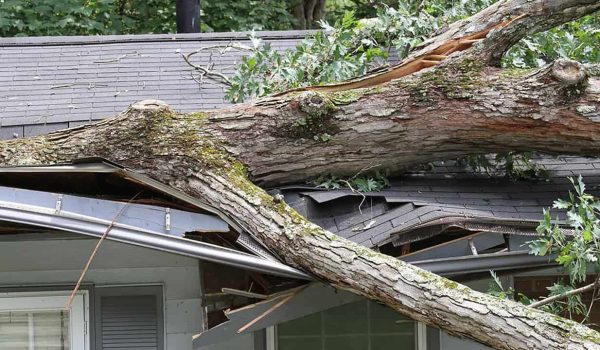 Thunderstorms and hail are common in the Texas area. Do not be afraid if you have faced storm damage as our locally owned is here to help you. Our team responds fast with top-quality materials to do an outstanding job and restore your house.
SEE WHAT OUR CUSTOMERS
ARE SAYING...
We have become the go-to roofer in Missouri because we know how to give homeowners what they want. Our comprehensive roof repair services come at a fair price, ensuring every property owner has what they need.
We offer the following repair jobs:
What are your roofing needs? Do you want a new roof, replacement, or simple repairs? Hire the most trusted roofers at Bison Roofing, and you can rest assured of high-quality work.
We strive to be the first company homeowners think of when they need a residential or commercial roofing project.